Welcome to the first post in a series of holiday gift ideas. With Black Friday just around the corner (or, for myself and hopefully lots of other people, Buy Nothing Day), I wanted to explore some perhaps unconventional gift ideas for you to show your loved ones you really care. 
The theme for this week's post…
APOCALYPSE: NOW!
Last year, my theme for presents was 'Apocalypse: Now!' Everyone in my family got items that would be useful in the event of the grid going down. I know this sounds crazy, but most of my family lives in North Carolina–aka prime hurricane country (for example, my high school was pretty severely damaged by Hurricane Florence). While my family currently lives far enough away from the coast to miss a lot of the damage from all but the category fours and fives, they still live in areas that receive a lot of flooding. In the event of an emergency (aka the upcoming climate wars), I want them to be prepared. Here's what I gave to my family:
LifeStraw
Each member of my family got a LifeStraw. A LifeStraw is a water purification device that is essentially a straw with a large filter. As per the website, the filter removes:
• 99.999999% of bacteria (including E. coli)
• 99.999% of parasites (Giardia, Cryptosporidium, etc.)
• 99.999% of microplastics
You can drink directly from a lake or stream if you want to! And it filters 1,000 gallons, which (according to the website) is enough to let one human drink for five years. It's super lightweight, so it's great for throwing into your go-bag when you're running away from floodwaters or fires.
(Just kidding. It should be in your go-bag already. CONSTANT VIGILANCE!)
This gift is also great for the explorers in your life (and feel free to use that as an excuse if you think your loved ones don't take your fear of a total global meltdown seriously). I bought one for my partner when he went off to spend a year living and working in Bhutan. He drank the water there with his LifeStraw and didn't die of dysentery, so it seems like it works.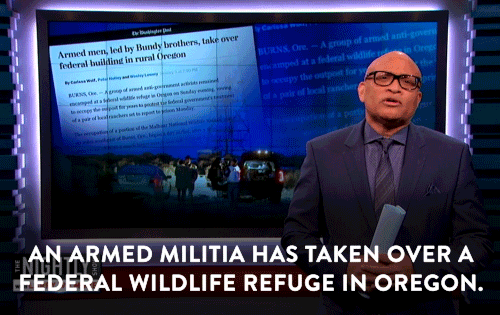 Additionally, it also removes microplastics, so I'm thinking of getting one just for everyday use as well, since apparently there are 7 million microplastic particles in San Francisco Bay…
36-Hour Candle
When the grid goes down, your lights will go out (unless you have a back-up generator…but that too can fail if you don't have enough fuel to run it!). What can your family turn to when they need to light their way in the darkness? The SE Survivor Series 3-Wick 36-Hour Emergency Candle. It has three wicks to ensure the candle evenly burns (please note each wick lasts 12 hours, so don't light them all at once), and it comes packaged in a reusable aluminum tin. Reusability will be a valuable asset in the upcoming zombie apocalypse, so this candle makes a great option for people who want to see but also want something in which to store their remaining ammunition.
Heirloom Seed Pack
My mom and her husband live on a fairly large parcel of land ("large" by suburban standards). Straddling the line between suburban and rural (a subdivision next to farmland), she has the space to grow food and already has a large vegetable garden. However, she limits herself to just a few varieties of vegetables–tomatoes, peppers, etc. While she's covered on the Vitamin C front, what about all the other nutrients that she will need to survive?
I gave her the Survival Garden Heirloom Seed Pack from Open Seed Vault. This package contains 32 different seed varieties. While this clearly isn't every vegetable or fruit that exists, it should keep the basics covered. For example, she'll be able to get her protein (beans, peas, and sunflower seeds), greens (kale, spinach, and three kinds of lettuce!), and even get a little bit of fruit (cantaloupe and watermelon).
Supposedly the package is air-tight and moisture-proof, and the seeds should last for at least 20 years. I'll mark on my calendar to get her some new ones in 2038, provided we still have a civilization then.
Emergency Biscuits
However, your family is going to need something to munch on while they're waiting for the produce to grow (and as emergency supplies for when a mob tries to take over their compound). At this point, they'll probably be so hungry that it doesn't matter what they're eating. However, you can save them from resorting to boiling shoe leather and then viewing each other as delicious entrees with some emergency biscuits.
These Emergency Food Rations consist of 3600 calorie bars. They are cut into pre-measured 400 calories bits, and supposedly can sustain one person for up to three days. They're kosher and halal (hooray!) and, according to the description, have a "pleasant lemon flavor." Better yet, one reviewer describes them as being the "Best emergency ration [they] have tasted so far."
Think of it like lembas from the Lord of the Rings. You can finally live your fantasy of being a hobbit on a quest to throw the One Ring into the fires of Mt. Doom. It's like LARPing, except you might actually die if something goes wrong!
These come vacuum-sealed but with a shelf life of only five years, so you'll probably have a chance to taste-test them before end of days. Just don't forget to order more!
First Aid Kit
So what happens when you accidentally burn yourself with your 36 hour emergency candle or injure yourself with a farm implement when you're working on your heirloom seed garden? The hospitals will have long since been looted for opiates, so you'll have to take the doctoring into your own hands.
Depending on the size of your survival colony, you're going to need some serious supplies. That's where the Lightning X Extra Large Medic First Responder EMT Trauma Bag comes in. This kit has everything*–a finger splint, two types of sheers, a CPR barrier kit, an airway kit…It even has a goddamn stethoscope! I could go on and on, but it'd be easier if you check it out yourself.
Most importantly, it comes with a First Aid Guide, so you know what the hell you're doing with all that gauze.
You can get a first aid kit for your pets too! After all, all pets will become working animals once shit hits the fan.
In Conclusion
While we can be optimistic, let's face it–shit happens. Climate change is real. Severe weather events are getting more extreme. The best way to show your loved ones you care is helping them prepare for the inevitable Mad Max future. Happy holidays, and stay safe!
* Ice sculptures, winos, Germfs – German smurfs – a Teddy Ruxpin wearing mascara, an old lady wearing Kid 'N Play hair, and none other than DJ Baby Bok Choy…He's a giant 300-pound Chinese baby who wears tinted aviator glasses and he spins records with his little ravioli hands.