It's nearly the end of the year, and this one's a doozy. The 2010s are coming to an end, and a new decade is dawning. It's a fresh start; an opportunity to make better, improved versions of ourselves.
But can we actually achieve these shiny new dreams, these visions of self-actualization that we see in our mind? Absolutely! However, there are a few things we should keep in mind when we're making our resolutions.
First, I'd like to reflect on one of my resolutions from last year that was a big fat failure.
A Failed Resolution
One of my resolutions for 2019 was to study more German.
My partner speaks German. Quite well, actually. He's over in Germany this very instant working, volunteering with a refugee organization, and finishing his second Master's degree (yes, I'm bragging about him). He's told me before that it would be great if I spoke German too, so we could tell each other secrets when we're out and about.
Additionally, we have several mutual friends who are Austrian, and it would be great if I could also converse with their friends and family whenever we visit. The last time I went to visit these friends in Vienna, one of them had to read the menu out at the restaurant to me to make sure I ordered something vegetarian. At the time, I felt like a little kid depending on their dad to help them navigate the adult world. It wasn't a great look.
I'm flying out to Munich soon (two days after this post goes up, actually), and I told myself that this time I was going to study and work hard and be able to order my own food like a 'big kid,' etc. etc. And guess what?
I still don't speak German.
What happened? Well, I studied a bit. But nothing ever seemed to stick.
Frankly, learning languages has never been my forte. It took me an entire summer of four-hour-long classes to scrape together a 'C' in French so I could meet the language requirement for getting my 'BA.' My high school French teacher mostly told us stories of him being in Vietnam and how one of his daughters was great and the other daughter was a huge disaster. I passed that class with the help of google translate.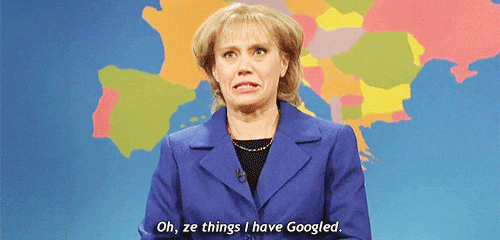 To me, languages in my brain are like water flowing through a sieve. Most of it just goes right on through. Occasionally one word or phrase will inexplicably attach itself to my brain–die katze! der schnee!–but the rest of it just leaves as soon as it arrives*.
Look at me. I have excuses upon excuses. But what's the truth?
The truth is I just don't care.
I don't care about speaking German. Other than my partner and a handful of friends, I don't know anyone who speaks German. The only type of German I encounter in my work is Middle German, which isn't what is used now (Modern German). This will be the second time I travel to a German speaking country, and the first time I will be there for more than five days.
Would speaking German be helpful? Yes.
Will I be perfectly fine without it? Also yes.
It takes a huge amount of effort and energy to make a language stick, and frankly, I don't think the payoff is enough with this particular goal. I'd still like to take a class or something at some point, but the motivation to self-study just isn't there.
This resolution was bound to fail because I didn't have a 'Why.'
Finding a 'Why'
What's important to you? What type of life do you envision yourself leading?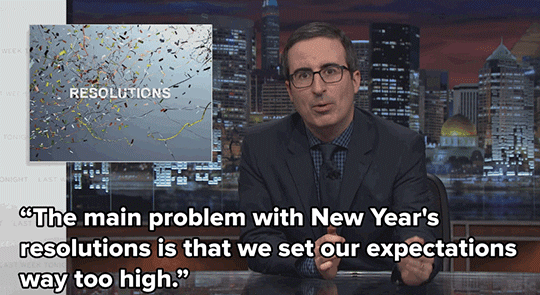 If you didn't have to worry about financially support yourself, what is the ideal life that you would want to live?
The answers to these questions can help you figure out your 'why.' Those of us in the FIRE/FIOR community may have already thought about this a lot. It's the reason so many of us are trying to get out of debt and stash money away to become financially independent–we desire a life that aligns with our deepest goals, desires, and beliefs.
I encourage you to take a long look at your life and pinpoint hobbies or goals that will more closely align your life with the one your heart wishes you could life.
There are a lot of articles out there that claim early retirement causes early death. However, this seems to be associated with these individuals increasing the amount of time they spend sedentary and decreasing the number of social interactions they have. So, it's not retirement that kills them, it's a dearth of hobbies or friends. They don't have activities or relationships that have significant meaning to them.
What gives you meaning? What makes life worth living? What's something you always wanted to do? When you find the answers to these questions, you can start forming the basis of your resolutions.
Supporting Your 'Why' with a Plan
Piggy over at Bitches Get Riches wrote a great post two years ago about how she has achieved her resolution every year for the past few years. Her secret? She makes her resolutions SMART goals. For those of you unfamiliar with SMART goals (a staple of corporate and nonprofit growth), these are goals that are Specific, Measurable, Achievable, Realistic, and Timely.
If I were to re-imagine my resolution of learning German as a SMART goal, it might look something like this:
"By December 2019, I will have learned 100 German vocabulary words and 20 useful phrases."
"Study German" or "Learn German" or "Speak German" don't really mean anything to me. How can I see progress or stay motivated if I don't have any concrete indicators? By making a number, I give myself an easy concrete goal to hit. "Speak German" is difficult. Learning languages takes a long time, and making a goal of "Speak German" feels to me like Sisyphus rolling that damn rock up that hill. The task never ends. I will never achieve the goal.
I've a very numbers-motivated person. I have about fifteen spreadsheets between my personal finance and fitness hobbies alone, if that gives you any idea of how obsessive I can be with numeric goals. By quantifying my goal, it becomes achievable.
Quantifying works for me, but may not work for you. Are you more of a visual person? Create a tumblr or pinterest board to help curate images that inspire you to reach your goal. Make a chart or coloring sheet that you can fill in as you accomplish your goals–for example, there are all kinds of free debt-repayment coloring charts online. Print one out and stick it on your fridge to help motivate you to reach your goal.
Moving Forward
Next week I'll delve into my personal 'whys' and the goals I created that use those 'whys' as their framework.
What are your resolutions for the new year? What are your 'whys', and what steps do you plan on taking to achieve them? Please feel free to leave a comment and let us know!
*The only exception to this was Korean. When I lived in South Korea, I picked up enough to get around, go to the dentist, speak with my students, etc. But I lived there for three and a half years, so the exposure rate was pretty damn high, and in my first year and a half only a handful of my coworkers spoke English, so it was basically a do-or-die situation.